Title:
Reveal Your Secrets [ART]
Artist:
LamLinh
Rating:
G
Media:
Pencil
Summary:
Severus felt helpless as he allowed Harry to work—but oddly enough, he didn't mind it. A dreamlike stupor had stolen over him. What he saw through his wet lashes was the painting of the volcano on the wall; when he closed his eyes, he saw colors against the dark undersides of his lids, an eruption of them, soft and bright and dancing slowly with his heartbeat.
A/N:
For the author of
Reveal Your Secrets
. I love it far more than I can possibly describe in words, so I found another way to. (Or at least I hope I did.) Thank you for sharing such a beautiful story. Ver 01 is the original, ver 02 is the blur effect added as hot steam.
View on AO3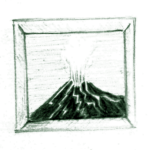 ( Reveal Your Secrets [ART] )

*This artwork is the sole property of the artist who created it. Please do not use it or repost it, in whole or in part, on any platform without the express consent of the artist. If you would like to rec this image, please link to this post or the artist's journal after the reveals.