TIME FOR THE BIIIIIIG ANNOUNCEMENT
opal11
and I decided that celebrating the Fifth Anniversary of 513 was a necessity.
So, we enlisted some help from
brianslave68
,
qafmaniac
, and
pfodge
and together we all came up with some fun ideas and they made some gorgeous graphics!
WHAT: QAF FIFTH ANNIVERSARY GALA
by
pfodge
WHEN: August 7, 2010 -- all day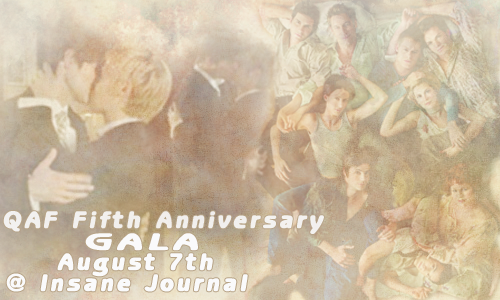 by
pfodge
WHAT: FUN ACTIVITIES
~~There will be some fun discussions at
qaf_coffeeclub


by
pfodge
~~
qaf_marathons
will be watching 513 @ 2PM EST...with a repeat at 9 PM EST.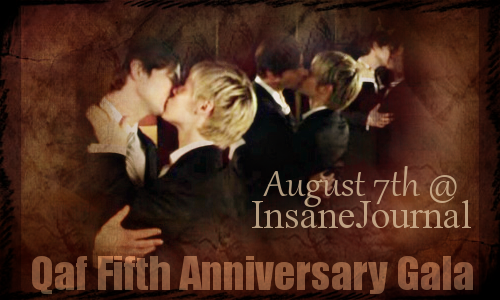 by
brianslave68
~~Put on your creative hats for the GALA CHALLENGE: Theme: Five years post 513 // or // Season Five -- We want fic
(porn is good)
, vids, drabbles, graphics, etc
Everything is due August 6 at 12Midnight, EST to happierbunny@ gmail . com
by
qafmaniac
QUESTIONS? ASK AWAY
GRAB SOME BANNERS AND ICONS AND START SPREADING THE WORD!



by
qafmaniac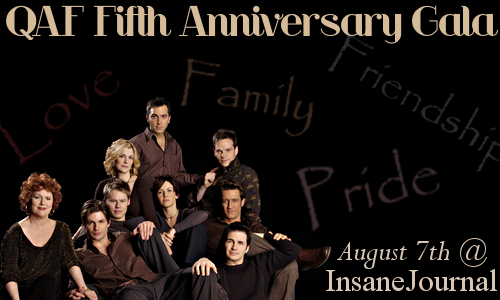 by
brianslave68
LADIES...let me know if I missed anything. ;)