ANNOUNCING....
xie_xie_xie
and
happier_bunny
's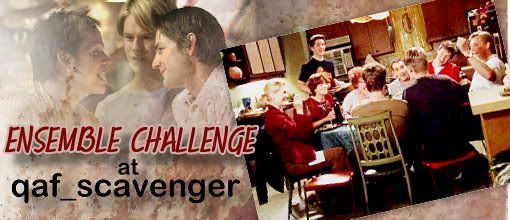 What's this you ask?
Well, we want some gang-fic, some gang-graphics, and some gang-vids, so we're hosting a challenge.
RULES:
1. You must have at LEAST four Queer As Folk characters in your submission.
2. Fics must be a minimum of 500 words (sorry folks, no drabbles this time).
3. No non-canonical pairings.
4. Sign ups are open until January 31, 2010
5. Submissions are due February 28, 2010 at midnight PST (email them to happierbunny @ gmail .com). Please include "ensemble submission" in the subject line.
6. All posts will go up March 1, 2010
7. All submissions MUST be html coded.
8. All graphics MUST be hosted somewhere (i.e. photobucket, etc). Please do not send them as attachments this time. Thanks!
9. Use the following Header for your entry:
TITLE:
AUTHOR:
(or ARTIST)
NOTES:
~~~Any questions, ask away and let the sign ups begin. :D
*thanks to
qafmaniac
for the banner!