HP Clue - A Murder Mystery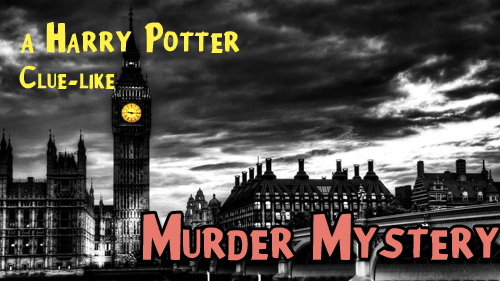 HP Clue is a Murder Mystery game, modelled after murder mystery dinner party games. Players will play either one of the suspects, or one of the 19 people on the outside deeply connected to the suspects. They'll form allegiances, ask questions, and defend their own characters profusely. Each week, more clues will drop - and players will be able to sign up to 'discover' each new clue. In the middle of September, the final clue will drop, and the murderer - and his/her possible accomplice - will be revealed. How many secrets will have been revealed - and lives ruined - in the process is anyone's guess.

HP Clue is intended to be a limited short-time game, with game play lasting just two months. Focus is on character development and intense character interaction.
HOLDS CLOSE JULY 10TH; GAME BEGINS JULY 14TH!
Premise
Application
Calendar
Holds/Taken/PB List
Rules/Game Play Information/FAQ