One Perfect Moment: Captain America speaks the Truth.


Greetings True Believers! Captain America is a character that practically made of perfect moments. Everyone knows that Cap has the secret mutant power of the "Inspirational Speech" Because of it, he rallies armies, Gods follow him into battle, enemies become friends and he teaches whole generations of heroes.

These scans have what I consider the "The Speech" which totally defines Steve Rogers and what he stands for. (What we should all stand for.) It's from Amazing Spider-Man #537, during the Civil War event. Peter has just switched sides and he's screwed up the fight, putting his family in danger and what people are saying about him. So he asks Cap a very important question.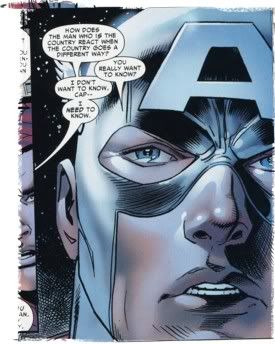 ( Read more... )
Current Location: Outer Dark
Tags: char: captain america/steve rogers, char: spider-man/peter parker, creator: j. michael straczynski, event: civil war, publisher: marvel comics, series: one perfect moment week