Mr. Miracle's funeral, Justice League America #40


I had a request in an earlier JLI post I did for a page of Superman and Batman talking after Mr. Miracle's funeral. Naturally, I can't just do the one page, because the whole funeral is so awesome. Six pages of a 22-page comic, plus preview (plus a few non-comic images), not my scans.

So yeah, starts out with big fight with Despero, which J'onn ends...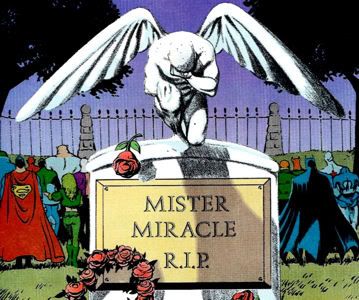 BTW, this seems as good a post as any to throw this out there. It didn't strike me back in the 80s because I hadn't seen the movie, but now that I've got both the first JLI trade and the Omen series box set, I'm wondering if deMatteis modeled his Max Lord on Sam Neill as the adult Damien Thorn? Check it out:

What say you, s_d? Do we have a match?

Tags: char: batman/bruce wayne, char: big barda/barda free, char: blue beetle/ted kord, char: booster gold/michael jon carter, char: gypsy/cynthia reynolds, char: martian manhunter/j'onn j'onzz, char: maxwell lord, char: superman/clark kent, creator: adam hughes, creator: j.m. dematteis, creator: keith giffen, group: justice league of america, publisher: dc comics, title: justice league of america