Storm Of A Lifetime (narrative)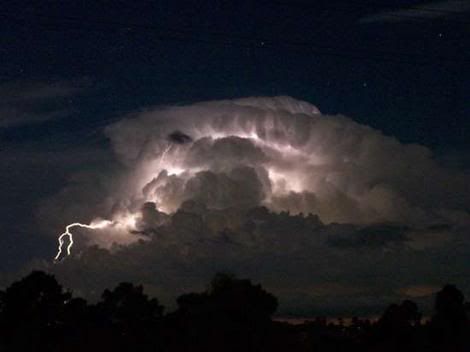 Anger fueled the storm. Probably one of the more powerful ways of fueling anything when it came to magic. Blood, death, sex were all good, but this was emotional and definitely magic. The City's power, what made streets and buildings move or put food in recently empty cupboards and refrigerators, was being used against it to wreck havoc. The dogs of war hadn't exactly been slipped, but a gauntlet was being thrown down. This was bigger than anything done against the City before.
For over forty-eight hours, the sky was dark, so dark that the only way of telling that it was actually morning was a simple bit of clockwork (or digital for those who can't read watches). The sun never came out from behind the broody, bulging clouds that let loose rain and hail, thunder and lightning. Tornadoes formed, ripping up the park, creating those freak of nature scenes of chickens through wooden light posts, or straws embedded into concrete. Windows burst from pressure and the painful rolling thunder. Lightning touched down, killing trees in flashes or turning once clean pavement into scorched cracked rubble.
Power went out for most of the night, leaving the Hospital, Library, and Police Station to work on limited generators' power. Loss of electricity wasn't all that hit these City landmarks. Areas of each were flooded from the onslaught of rain after windows were destroyed or simply from the lack of proper drainage. The City had never had this problem before.
Car alarms went off constantly, and what few animals were in the City cried for attention along with the children. Store fronts and the goods there were ruined or gone. Kiosks were torn apart or moved so far away that not even those used to the moving streets would find them. The world was coming undone.
( important for you to know )