The Mysterious Case Of Jane Doe
xdoop posted some scans from Batman: Streets of Gotham's Manhunter stories a few hours ago. They featured Jane Doe, who was... quite different from the last time I'd seen her in comics. The first time I'd seen her was in Arkham Asylum: Living Hell, where she was one of the three or four parallel stories featured in the six issue miniseries. This post contains a summary and several spoilers for the book.

All books were written by Dan Slott, illustrated by Ryan Sook, and colored by Lee Loughridge. The artwork has a very Hellboy, Mike Mignola vibe to it which works well in this context.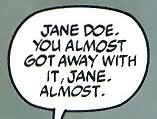 Current Mood: annoyed
Tags: char: batman/bruce wayne, char: great white shark/warren white, char: jane doe, creator: dan slott, creator: ryan sook, publisher: dc comics, title: arkham asylum: living hell