READY, SET, PORN!!!
As soon as the calendar rolls to SEPTEMBER 01, 2012 in YOUR time zone... POST ME US SOME PORN!!!
Fic, vid, art, music, graphics, and recs... all welcome here!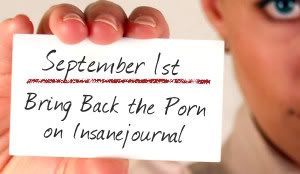 bbtp_challenge banner by
maybe742
REMEMBER THE FOLLOWING:
* This community is
only for a link
to your art/fic/icons/whathaveyou. All actual fics, vids, icons, whathaveyou should be in an unlocked post in your journal (IJ/LJ/DW) or at an anon accessible archive like AO3.
* Tag your posts if possible. If your needed tag is not there, we will add it when we do the master list.
* Leaving love for other porn is a
very good thing
. Comment, comment, comment.
* Being rude and obnoxious is not considered a comment. It is considered flaming. I mock people who flame in open forums and with great joy. You are warned. You will also be banned.
* Proper fomatting is LOVE! All subject lines need to read:
FIC/ART/ICON/MUSIC/FANVID/REC~ Fandom(Pairing)
Please copy and paste the header format below for the posts. It includes the coding for making a link to a new page. Thank you!
* Non-IJ members can leave Open I.D. or anon comments
here
linking to their BBTP goodies.
Let's do it, people!
.