Art: Watch the Nargles, Harry! (HHr, Luna, R)
Title:
Watch the Nargles, Harry!
Author:
sweet_lemmon
Fandom/Pairing:
Harry Potter- Harry Potter/Hermione Granger
Characters:
Harry/Hermione, Luna, random people
Media:
pencil
Rating:
R (NWS)
Table/Prompt:
5.1/ #5 Exhibitionism (
My Table.
)
Disclaimer:
Not mine.
Warning(s):
Sexuality, Hermione's arse. .
A/N:
For my
5_kinks
table. I'm not very inspired to draw- but I realized that I am closer to the dead line here, so...I guess that' it. Something very quick. Inspired by a Mancini's illustration. Luna ended a little weird, I know. And Hermione's hair is so 80's...*sighs*
Comments are nice.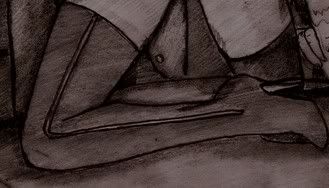 ( Watch the Nargles, Harry! )