Legend of Zelda: Song Of Hylia by Yuuo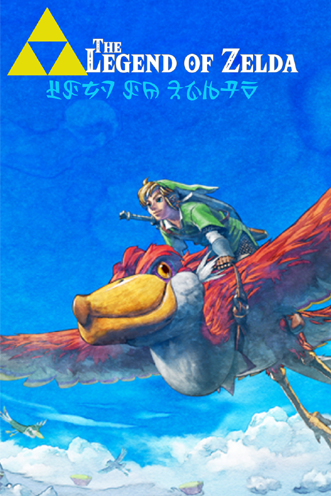 "O youth, guided by the servant of the goddess, unite earth and sky..."
Long ago, there was a great battle between the goddess Hylia and the forces of evil. The stories of this battle have been handed down in Skyloft since time out of mind. Though much of the truth of this battle has been lost, the prophecy remains: a hero of the goddess will appear when the great apocalypse awakens.
Link is a student at the Knight's Academy on Skyloft, training to become a knight of the goddess. Skilled, but sometimes a little lazy, his natural talent and close friendship with the headmaster's daughter, Zelda, invites some jealousy from classmates, but he doesn't let that bother him. There's too much to enjoy about life.
Disaster interrupts his happy life the day he graduates to the upper class: an unnatural tornado knocks both him and Zelda from their loftwings during a post-ceremony flight, sending Zelda below the cloud barrier, and Link back to Skyloft, where he is found unconscious.
Scared for his Most Important Person, Link prepares- against advice from the headmaster -to search for her, when a spirit named Fi appears before him. He is part of a great destiny, she says, fated to be the goddess's chosen hero. And honorable Zelda, the spirit maiden from the sky, is part of that destiny. Taking up the Goddess Sword, a sacred blade that Fi resides in, he sets off to fulfill his destiny and reunite with Zelda, before the forces of evil destroy them and all they hold dear.
((Yes, this is a novelization of Skyward Sword. There was so much glaring mishandling of the plot that either I tear my hair out in frustration, or I fix them.))
Daily Postings
Day 1
Final Word Count:
Number Of Chapters Finished:
Finished?