And in a creative mood. Why I decided I wanted to make birthday banners is beyond me, but I though I would share. These are all share-able.
Comments and Credit always appreciated. Please do not alter in any way
Upload icons to your own computer/server
NO HOTLINKING!!!
How to credit here
Rules for joining this community can be found at the top of this community, in the profile page and on the sidebar.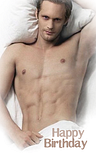 ( Click images to see full size )