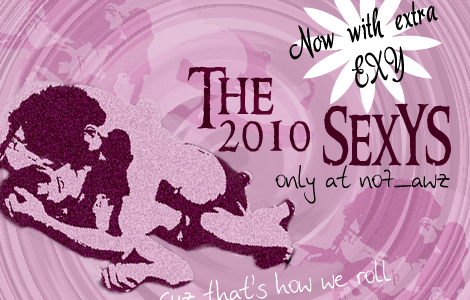 THE VOTES HAVE BEEN TABULATED, THE BANNERS HAVE BEEN SLAVED OVER (SO YOU BETTER LOVE THEM HAHA) AND FINALLY THE MOMENT HAS ARRIVED.
But before we get to the first award, we have to have the opening monologue right? And I just want to firstly say, OMG HOW AWESOME IS OUR FANDOM? ARE WE SEXY OR WHAT? I originally was not going to make so many award banners but because of the amount of talent in the nominations, I thought everyone deserved a little something something. So there's First Place and Runner-Up banners, plus Nomination banners for each category. Because you guys rock. XDXDXD
Secondly, speaking of banner making, not even with the power of 100 AWZ cracky dream sequences would the SEXY RESULTS be remotely ready if it weren't for
graspthethorn
's help. She showed up in the nick of time and saved my ass. <3333333333
Thirdly, please, please, please, please, for the love of all things Essen, save your banners and upload them to your own servers. Do not max out my photobucket account, bitte! <3
OKAY, OKAY, I'LL SHUP NOW AND GET TO WHAT YOU'VE BEEN WAITING FOR...
( HERE ARE YOUR SEXY WINNERS! )
OMG SO THAT'S IT! THE END OF THE 2ND ANNUAL SEXYS! ACCEPTANCE SPEECHES ARE ENCOURAGED IN THE COMMENTS AND ALSO IF I SCREWED ANYTHING UP, LET ME KNOW SO I CAN FIX IT.
<3333333333 UNTIL NEXT SPRING, LOVELIES!