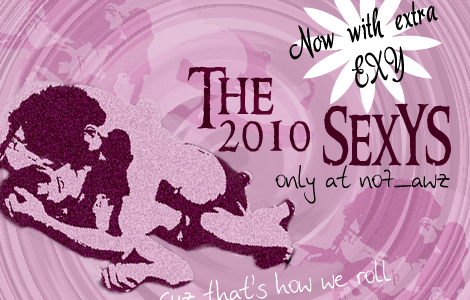 Last year the lovely and insane
graspthethorn
created the SEXYS (
S
PRING
E
QUINOX AWARDS FOR THE
X
ENOPHILIC
Y
OUTH - please don't ask me about the name) to celebrate fanworks for VL and AWZ. Even though it's a little late, I couldn't let this spring go by without carrying on this fine tradition.
Only I'm moving it over here to
no7_awz
and leaving VL out of it. Because I'm selfish and only care about AWZ. Does anyone mind? No? Awesome!
TIMELINE STUFF
I'm moving right now, so I'm going to keep this kinda flexible, hahahaha.
NOMINATIONS: OPEN NOW UNTIL APRIL 26TH
VOTING: MAY 1ST - MAY 14TH
AWARD CEREMONY: MAY 21ST OR AS SOON AS I CAN GET EVERYTHING TALLIED AND BANNERS MADE (HAHAHA I WILL NOT BE MAKING AS MANY BANNERS AS LAST YEAR, JFYI)
Dates may change if I'm attacked by a wild swarm of bees or kidnapped by circus folk, but everything will get done and tallied and posted no matter what!
RULES AND STUFF
Right now you guys just need to nominate so we'll concentrate on that.
YOU CAN: Nominate your own stuff if you wanna.
YOU CAN: Nominate as many pieces for each category as you want. If you can't pick between 5 fics for BEST DERO FIC then nominate them all!
YOU CAN'T: Nominate the same fic/art/vid/other for more than five categories. Chances are if its really that awesome and needs to be up for every category, someone else will nominate it
YOU CAN'T: Nominate anything created before April 2009 because more than likely it was nominated during the first go around. And this is the 2010 SEXYS. If you really think something was overlooked, ask me and we'll talk.
YOU CAN: Suggest categories I forgot and I'll probably add them to the list as long as they aren't something like "BEST FIC TO FEATURE MIKE BLEEDING FROM THE HEAD"
YOU CAN: Shill this out far and wide! <3333333
ETA: Please email all nominations directly to me if possible. Comments are still screened just in case, but email would be preferable. Thank you!
TO NOMINATE:
Comment to this post or
Email your nominations to me at shellydkitty [at] gmail [dot] com with the following:
CATEGORY:
TITLE:
AUTHOR/ARTIST:
LINK:
No one will know what you nominated except for me of course, hahaha, but I'm good at keeping secrets. ;) You don't have to nominate for every category, and you don't have to send all of your nominations in at once if that helps!
So without further ado, THE CATEGORIES!
FIC
BEST FIC OVERALL
BEST CHAPTERED/SERIES
BEST ONE-SHOT (OVER 1000 WORDS)
BEST DRABBLE/FICLET (UNDER 1000 WORDS)
BEST GERMAN FIC
BEST ENGLISH FIC
BEST DERO FIC
BEST OTHER SLASH/FEMSLASH FIC
BEST HET FIC
BEST GEN FIC
BEST CRACK FIC
BEST ANGST FIC
BEST ROMANCE FIC
BEST PWP FIC
BEST HUMOUR FIC
BEST DENIZ CHARACTERIZATION
BEST ROMAN CHARACTERIZATION
BEST OTHER CHARACTERIZATION
VIDS
BEST AWZ VID
BEST CANON VID
BEST AU VID
BEST DERO VID
BEST OTHER PAIRING VID
BEST GEN VID
BEST ANGST VID
BEST CRACK/HUMOUR VID
BEST ROMANCE VID
ART/GRAPHICS
BEST ICON
BEST BANNER/MANIP
BEST FANART
If for some reason there aren't enough pieces nominated in certain categories, I may end up combining, but I'll let everyone know asap!
QUESTIONS? I'M SURE I FORGOT STUFF.
ALSO, I MADE A BANNER (YOU DO NOT NOTICE HOW SIMILAR IT IS TO LAST YEAR'S SHHHHHH) FOR SHILLING PURPOSES. I WILL MAKE MORE SOON BUT IF ANYONE WANTS TO MAKE SOME TOO, I WOULD NOT COMPLAIN. XD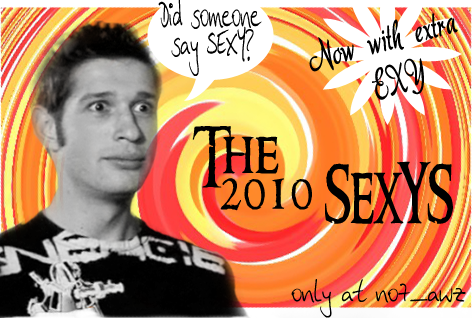 SPREAD FAR AND WIDE!!!!
IF YOU WANNA SEE WHAT THIS WAS LIKE LAST YEAR, HERE ARE SOME LINKS: [
2009 SEXY NOMS
] [
2009 SEXY VOTING
] [
2009 SEXY WINNERS
]