4:48 PM
</a>

The Invited
All of the online students of Altamont Academy
A few NPC
New York, France, and California Socialites and Family
NY Junior League Society Members
Sophia Brookes
Beyonce Carter
Wentworth Channing
Victoria Darling
Geri Deschanel
Katherine Evans
Christina Kearns
Keri and Anthony Luciano
Dean Martin
Justin Rene
Shakira Ripoll
Nick Salinger
The Orlando Vanderbilts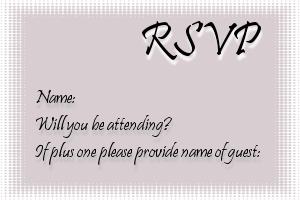 The RSVP'd
The Out of State and Country invites
Matthew Miller
Shakira Ripoll (with guest Ryan Shale)
Liam Rudd
Chad Lucas
Ryan Vanderbilt (guest: Reese Vanderbilt)
Jamie Esposito
Aaron Endsley
Milo Romano
Evanna Grey
Christina Kearns (guest: Josh Conrad)
Alexis Romano
Summer James (guest: Boyd)
Anna Barastein
Joe Reynolds
Taylor Palmer (guest Nick Reynolds)
Joanna Krzysewski
Beyonce Carter (guest: Dale Morrison)
Hilarie Taylor (guest: Bryan Green)
Hilary Andrews
Nick Salinger (guest: Scarlett Jacobson)
Rupert O'Hare
W.Channing
Bonnie O'Hare (guest: Drew Kennedy)
Skandar Cooper
Hayden Andersen
Daniel Jobs (guest: Maggie White)
Kristen London
Keri Luciano (invited guest: Tony Luciano)
Katherine Evans (plus one)
Jordan LaChapelle
Ryan Moore
Emilie Petit




If you haven't rsvp'd yet, please check this post, and comment with your reservation. If you have, and you have a plus one that's invited, but didn't indicate who, please do so, or you might not be seated next to that person. I hope to see you all there!


( info cut )