| | |
| --- | --- |
| Date: | 2008-10-27 15:01 |
| Subject: | Riding The Rift- A Whoverse RPG- Desperately Seeking Gwen |
| Security: | Public |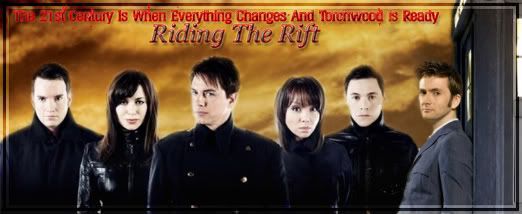 ~~~
Taken/Reserved Characters and PBs
~~~
Application
~~~
Contact
~~~
Game Comm
~~~
OOC Comm
~~~
~*~*~*~*~*~
Premise
Torchwood are having a bitch of a day...and the worst part is they keep on having it.
When the anomaly that brings forth a blast from Jack's past also screws up the timeline, some of the team get to change the present...one repeated day at a time.
With enemies loose and time stopping the world in its tracks can Torchwood and their visitor save the days...all the rest of them?
~*~*~*~*~*~

Set sometime between 'Voyage of the Damned' and 'Partners in Crime' for Doctor Who timeline (as the Doctor does not live a linear timeline.) And about mid-season two of Torchwood. So, Owen is actually the poor walking corpse in this game.
Any queries or questions fill free to email at:
ridingtheriftmods@gmail.com