Reminder - Literary Snape
I recently finished
The Adventures of Huckleberry Finn
, and was inspired to quickly draw Snape in the scene where Huck watches the Duke and the King practice the sword fight in
Richard III
. Here it is, serving as a mid-contest reminder: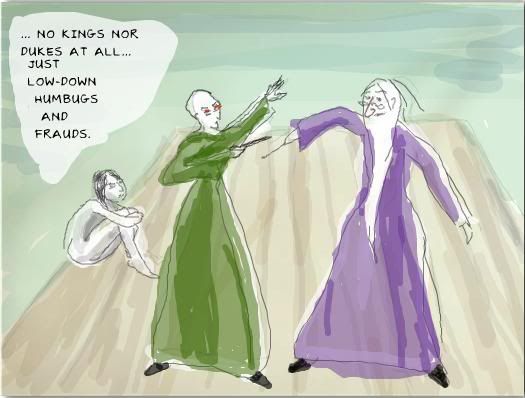 Now with
ArtPad
, to see how a real non-artist does it.
The text
:
It didn't take me long to make up my mind that these liars warn't no kings nor dukes at all, but just low-down humbugs and frauds. But I never said nothing, never let on; kept it to myself; it's the best way; then you don't have no quarrels, and don't get into no trouble.
Literary Snape ends May 2. There are already some great entries, but please don't hesitate to put Snape in any book you want. Because if you're a true Snape obsessive, you'll even
find him described
in
Huckleberry Finn
.