(Argh! I've been meaning to post this for a week now!)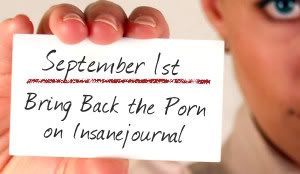 bbtp_challenge banner by
maybe742
Bring Back the Porn is an annual pan-fandom event on InsaneJournal. And folks, IT IS BRILLIANT. Seriously, for an entire day (longer, really, with all the timezones) your flist will be inundated with porn from every fandom, in every genre, in
every position
. Not only that, but you'll discover some great new writers/artists/creators and get to expand your fandom horizons, which is so much fun to do.
I'd love to encourage everyone to participate -- at the very least by joining
bbtp_challenge
and enjoy wallowing in the abundance of porny goodness.
More info here
!