Bloggish: Teal & Mauve Pegasus
Contents
: Teal and mauve Pegasus
Subject
: animal
Layout Style
: Bloggish
Status
: as is, with your own header
Credit
: Please credit me on your user info page
Comments
: Works well on all browsers to my knowledge
Thumbnail image: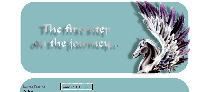 Currently working journal:
http://asylums.insanejournal.com/mylayouts2/
There is a blank header graphic
HERE
which you can snag and adjust for your own journal.
Instructions
1. Go to Customize Journal.
2. If you are not currently using Bloggish, click on the "Look and Feel" tab and select Bloggish in the drop down list. Set the Theme to None. Save.
3. Click on the Custom Options tab, make sure it set to "two column left" and copy and paste the code below into the CSS box. Save.