| o51 |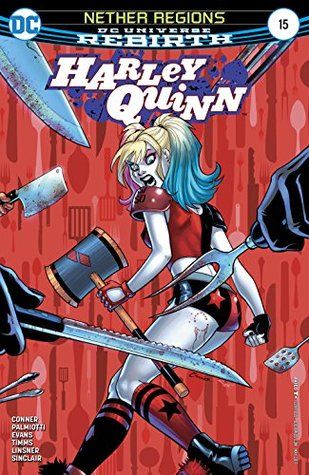 Title:
Harley Quinn (2016-) #15
Author:
Amanda Conner, Jimmy Palmiotti, Alex Sinclair (Illustrator), Khari Evans (Illustrator), Joseph Linsner (Illustrator), John Timms (Illustrator)
Format:
Epub
Rating:
3.5/5
Status:
Finished
Reading Date:
March 15, 2017
Book Summary:
"Red Meat" part two! Harley's managed to carve out a kind of peace with New York's corrupt mayor…but once she gets wind of his plans for the city's homeless population, the deal is most definitely off!
Book Review:
Real Rating: 3.5
Squee! I knew I noticed that art of Joseph Linsner! I have always loved the way he drew women especially from his Dawn series. I had not seen anything from him until now and it was a nice treat to be able to take note that I knew that art from somewhere! xD
Okay, okay with that out of the way...
I was confused with this whole storyline. First we were introduced to a young wrestling woman who seems to be gunning for Harley. The reasoning, I suppose, will remain a mystery for now. Then that entire squad of bad guys being up to something. Then you have the alien guy, who I have yet to figure out if he is going to be bad or good because it seems to change from moment to moment like some sort of mood swing. >>
And did I mention Power Girl shows up?
This has a lot going on but where a new storyline is starting, the other two are nowhere near the end of the line. So you have multiple somethings going on but no ending in sight and I can see why a lot of people would become frustrated with this. I know several times I became confused by the going ons.
This book, once held my interest, but now I feel that my attention toward is waning at best. I want to keep up with it but there are so much I can enjoy about it and then there are things I find that bore me to tears. I am going to stay as much as I can and hope that it goes in another direction that will once more renew my interest.