| o35 |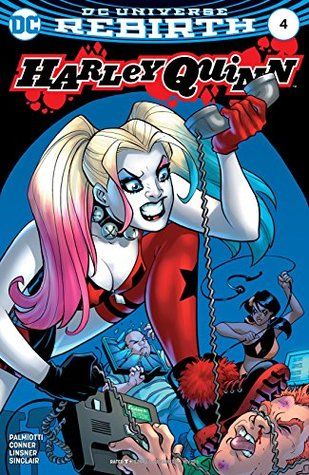 Title:
Harley Quinn (2016-) #4 (Harley Quinn 2016 #4)
Author:
Amanda Conner, Jimmy Palmiotti, Alex Sinclair (Illustrator), Joseph Linsner (Illustrator)
Format:
Epub
Rating:
4/5
Status:
Finished
Reading Date:
January 06, 2017
Book Summary:
"108 MILLION WAYS TO DIE!" Even though she hates to leave Coney Island as it rebuilds after the zombie apocalypse, Harley must set out on a journey that will take her around the world-and into the clutches of a bizarre robotic enemy! Too bad her Mecha-Harley suit didn't fit in the overhead bin…
Book Review:
We open with the end of the whole Zombie thing on Coney Island. Harley is having her moment of reflection on both Red Tool and Ivy. She has asked the latter to move in with her but there are always excuses from Ivy.
Here she meets the Nate's Hot Dog man and makes a deal with him. She tells him she will help him resurrect his business by showing that hot dogs are not dangerous by going around eating them in front of people. Of course he agrees and she does her job even going as far to hand out hot dogs to locals.
Later we catch up with Harley on a plane with Bolly on the hunt to find out who is behind those IRS scam calls.
I loved this one. I even found myself giggling when she was spanking that little boy who was controlling the robot. That was just something I actually see Harley doing.
This one was good and sometimes I wish I was not going backwards on these comics but I cannot help it whatsoever.