| o61 |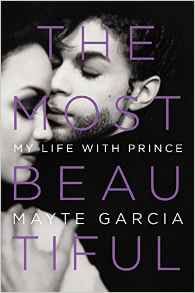 Title:
The Most Beautiful: My Life with Prince
Author:
Mayte Garcia
Format:
Epub
Rating:
4.5/5
Status:
Finished
Reading Date:
April 6, 2017 to April 13, 2017
Book Summary:
At the one-year anniversary of his death, legendary musician Prince's first wife shares a uniquely intimate, candid, and revelatory look inside the personal and professional life of one of the world's most beloved icons.
In The Most Beautiful, a title inspired by the hit song Prince wrote about their legendary love story, Mayte Garcia for the first time shares the deeply personal story of their relationship and offers a singular perspective on the music icon and their world together: from their unconventional meeting backstage at a concert (and the long-distance romance that followed), to their fairy-tale wedding (and their groundbreaking artistic partnership), to the devastating losses that ultimately dissolved their romantic relationship for good. Throughout it all, they shared a bond more intimate than any other in Prince's life. No one else can tell this story or can provide a deeper, more nuanced portrait of Prince--both the famously private man and the pioneering, beloved artist--than Mayte, his partner during some of the most pivotal personal and professional years of his career. The Most Beautiful is a book that will be returned to for decades, as Prince's music lives on with generations to come.
Book Review:
Real Rating: 4.5
Wow
...Just wow. There are no words to describe how wonderfully touching this book was. There were moments of smiles, laughter, and tons of tears.
Prince has always been a private person. He always tried to keep his life locked away from others but this glimpse was extremely interesting to read about. It answered questions I always had of him and yet it did not answer everything.
This story was beautiful and honestly I was happy that this book was written. I know many people out there were stanchly against the idea of having Prince's privacy invaded even in death and there were some that believed Mayte was trying to cash on his death. I don't believe either one of them to be true. I think she wrote this because she wanted the world to see how beautiful of a man her ex-husband was, how deeply affected they both were at the loss of their son, and how his death shattered her world.
She did him justice and allowed us a glimpse into their world.
If you are looking for a really good Prince book, then this book will definitely be the one for you.