| o53 |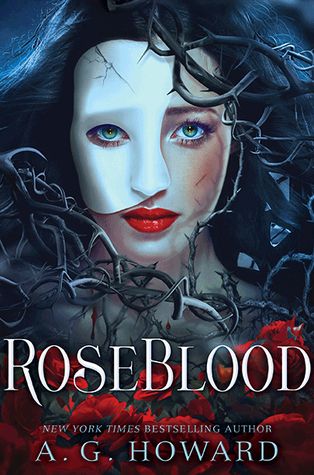 Title:
RoseBlood
Author:
A.G. Howard
Format:
Epub
Rating:
2.5/5
Status:
Didn't finish
Reading Date:
March 15, 2017 to March 17, 2017
Book Summary:
In this modern day spin on Leroux's gothic tale of unrequited love turned to madness, seventeen-year-old Rune Germain has a mysterious affliction linked to her operatic talent, and a horrifying mistake she's trying to hide. Hoping creative direction will help her, Rune's mother sends her to a French arts conservatory for her senior year, located in an opera house rumored to have ties to The Phantom of the Opera.
At RoseBlood, Rune secretly befriends the masked Thorn—an elusive violinist who not only guides her musical transformation through dreams that seem more real than reality itself, but somehow knows who she is behind her own masks. As the two discover an otherworldly connection and a soul-deep romance blossoms, Thorn's dark agenda comes to light and he's forced to make a deadly choice: lead Rune to her destruction, or face the wrath of the phantom who has haunted the opera house for a century, and is the only father he's ever known.
Book Review:
Real Rating: 2.5
This book had a lot of potential. In fact, it drew me during the first couple of paragraphs. After that, it lost me all together. I had hoped this book would be one I would completely enjoy especially as I have loved anything Phantom of the Opera but this one fell so very short.
The main character - Rune - felt Mary Sueish. She is perfect, has this amazing voice, and a tragic past. The other character - Thorn - felt no different. He even seemed to be the perfect Gary Stu for the Mary Sue.
Another thing I cared little for was the fact I felt this book seemed so close to being something quite similar to Twilight. Maybe it was just be with Thorn stalking Rune and telling her they were meant for each other.
Or maybe I have never gotten over my hatred for the Twilight series. >>
Then there was the whole "instalove!". Seriously? In love that quickly? Couldn't we have drawn that out a bit more through the story? Apparently not.
I really wanted to like this book but I could not even connect to any of the characters. I could see why Kat hated Rune because if I had been in the same boat as Kat and had something taken from me in the way Rune took it from her, I would have hated her with every single breath in me. Other than that, Sunny seems to worship Rune on spot.
Another thing that irked the hell out of me was the fact the whole first chapter spilled everything like Rune's power, her tragic life with losing her father and her family trying to kill her, and let us not forget the whole info dump about the school. I wish it had been drawn out and perhaps not so quickly in the first chapter.
I think if the author had kept some of these secrets and info dump and sprinkled them throughout the book, I would have been glued a lot more to the pages but I just could not find it within me to do so with this one. :/
Maybe one day I will re-open this book and see it in a different light but until then I am tossing this book in the pile "books that I have never finished."