| o38 |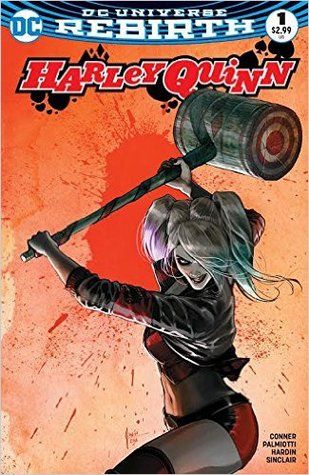 Title:
Harley Quinn #1 (Harley Quinn 2016 #1)
Author:
Amanda Conner (Writer), Jimmy Palmiotti (Writer), Chad Hardin (Illustrator)
Format:
Epub
Rating:
4.5/5
Status:
Finished
Reading Date:
January 06 to 07, 2017
Book Summary:
"Die Laughing" part one!
Welcome back to Harley Quinn's crazy world on Coney Island…now get ready to wave goodbye, because everyone there just might get eaten alive! Harley's gotta protect her neighborhood against an all-out zombie apocalypse! Break out the chainsaws, everybody!
Book Review:
Meet Harley Quinn.
This issue is a revamp of the last series belonging to Harley. This one, however, is DC Universe Rebirth. If you have not touched the other series of her comics, she does - happily - give you a bit of a history of what has happened up until now.
At this point in the series, Harley and Ivy are soaking it up at a spa. Pretty much enjoying the time they have together. Of course, the part ways but not before they tell each other sweetly how much they love each other. -le happy sigh-
With that all said and done, Harley does a rundown of how she met Mistah J while working at Arkham Asylum and how he later would end up breaking her heart.
After being dumped, she did a lot of soul searching and time to herself, she ended up finding herself in the process and ended up joining a squad. She goes on into introducing her friends, Harley Squad, and even fans of her two closest friends - Ivy and Powergirl.
Then we meet the teenage alien runaway who ends up becoming a cow, getting slaughtered, and ending up in the food chain.
And now Zombies.
This issue was interesting. Harley gave me a bit of an update to let me know exactly what has been going on with her life up until now. The only thing is they keep changing her whole history a bit again. I am used to her being just a psychiatrist, not becoming part of the inmates. So this was a bit of a change I was not expecting. I cannot say if it was good because I don't know if changed, if anything, any history between she and Joker. This is my first series of hers and so far I am enjoying it and plan to stick with it at this time.
This could change as the series grows.
So if you have not read any of Harley's series yet, give this one a chance you just might find you enjoy it.